Submitted by

Kathryn Bartee

on Wed, 09/15/2021 - 22:48
Vorticism is defined by Brittanica as an "attempt to relate art to industrialization." It stemmed from cubism and futurism, and in BLAST, the manifesto lays out what Vorticism is all about in the founder's, Wyndham Lewis's, own words.
---
On page 56 of the first edition of BLAST, there is an artwork by Wyndham Lewis himself, titled "Plan of War." The sharp, thick lines create a very structured and clean look, relating to the commentary on industrialization. Lewis titled this piece "Plan of War," which must indicate that he is attempting to relay a powerful, commanding message to anyone who sees this in order to reinforce his views he laid out in the manifesto earlier in the issue. His artworks in this issue allowed me to grasp what vorticism is because the manifesto was confusing, so the physicality of the art and the demanding shapes and lines allow me to understand what it is.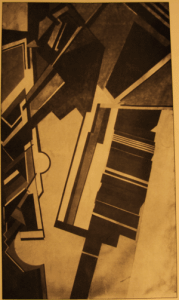 ---